It's one-on-one out there, man. There ain't no hiding. I can't pass the ball. -- Pete Sampras

I enjoyed the position I was in as a tennis player. I was to blame when I lost. I was to blame when I won.
-- Roger Federer

Of Slams and Grand Slams - Grand Slam defined
The Modern Forehand - Evolution of today's game
Any time tennis fans get together the conversation sooner or later turns to the question of who is the greatest player of them all. Such discussions are intriguing but too often they focus on recent players, and many fans are woefully unaware of the more distant history of the game. In fact, the sport has a rich past stretching all the way back to its inception, beginning with the very first Wimbledon in 1877. There is also a tendency to leave the decision as to who is the GOAT, the "greatest of all time," to experts' opinions of where players fall on some made-up list or how they fare in an imaginary tournament.
We think a lot is lost by ignoring past history, particularly what players actually put into the record books. In this somewhat more factual exercise we're going to sidestep opinions and unprovable speculations on greatest and instead try to track down the "most accomplished" male players based strictly on recorded achievements. (I leave it to others to perform the same office for female players.) In the process we'll try to bridge that greatest of divides, the one between pre- and post- open eras. For the attention span challenged, who just have to have the answer without the words, whys and wherefores, jump ahead here.
Why is it Difficult?
Jack Kramer, one of the all time greats and a man who helped usher in the modern pro tour, perhaps said it best. As a great player of his era, he was asked how the players of his day would stack up against modern players.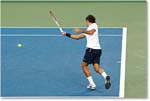 Kramer's answer is instructive. He said that if forced to play with the wooden racquets and gut strings of his day against today's players armed with graphite racquets and polyester strings, his generation would lose 6-0 6-0 every time. But if, given an opportunity to grow up training and playing with the same equipment and conditioning as today's players they would be every bit as competitive as anyone playing today.
This highlights the difficulty in comparing players across eras. Players today are superbly conditioned, trained and thoroughly dedicated athletes, and they cannot compete at an elite level if they are not. Furthermore, the equipment has fundamentally changed the game. Polyester strings, pioneered by Luxilon, have virtually eliminated the attacking serve and volley style, once a pervasive form of play on fast hard and grass courts. Players can now hit 100+ mph forehands with precision. Grass courts, once in widespread use, have almost disappeared -- the grass court season is now six weeks long and consists of a mere handful of tournaments.
What does "Greatest" Mean Anyway?
Those who wish to pin down the best player ever must confront the question of how to define "greatest." We'd like to believe the GOAT is the one player who would beat everyone else head-to-head or in a tournament. But how can we ever know that, across so many generations of players and differences in gear, conditioning, depth of schedule and competition, etc.? Lacking certainty, what are our options? Well, there's the aforementioned expert opinion approach, which seems to be the most widely resorted to option. And, there's the more objective approach of looking at records. As introduced above, we've chosen the latter path, foregoing the notion of "greatest" in favor of "accomplished."
Having chosen this path, it should be understood up front that this approach is not and cannot be a predictor of who would win a head-to-head matchup or a "tournament of champions." It is simply a look at the record books, and it may well be that the most accomplished players would not fare well in that imaginary tournament experts are so fond of.
A flaw in most record comparisons is that the attempt usually devolves to a simple recitation of slam victories. Well, this is wrong from the git-go. Prior to the advent of the open era, which began at the 1968 French Open, slams were only open to amateurs. But a pro circuit began to form as far back as the 1920s, and pros thereafter weren't allowed into slams. So slams won prior to the 1968 French Open were in fact won by amateurs, with pros excluded from competition.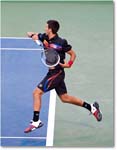 If slams are an inadequate source, how does one tell a compete story? It seems clear that in the period before the open era one has to look at pro competition since that's where the best players were -- with exceptions in the early days as the pro game struggled to take hold and not all top players turned pro right away, or ever.
Pro championships began in 1927, at Wembley, England; Paris, France; and at various US sites over the decades. An Australian pro championship was held irregularly from 1954 until 1966. Notable by their absence in the beginning were Bill Tilden and Henri Cochet, both of whom were considered to be at the pinnacle of the sport. Tilden did not turn pro until 1931, and Cochet followed in 1933. When Tilden went pro it marked the first time ever that the number one player was a pro.
Comparisons with the open era are admittedly inexact because early pro tennis was a pale shadow of today's global mega-sport. Sometimes the top pro players did not attend the above events. Management was much less structured and centralized, and the tour often featured head-to-head barnstorming circuits, with far fewer tournaments than today's packed calendar of worldwide venues. There were no computer rankings; instead sports writers, newspapers, magazines and knowledgeable tennis experts gave their opinion as to who were the best players each year. Throughout the 1930s amateurs migrated in fits and starts to the pro circuit -- or not -- via a path similar to today's approach: play the amateur slams for a year or two and then play for pay. It wasn't until after the war and with the tireless advocacy of Jack Kramer, who created a thriving pro tour in 1947, that the best players were to be found almost entirely at the pro level.
Despite unavoidable differences between eras, and however remote in time and lesser in depth of talent, the pro championships -- particularly after the war when almost all the best players were turning pro -- are the best available equivalents to open era slams.
The Value of Number One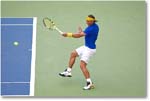 Another question that is rarely asked, but should be, is how big a deal is it to be the best player over the course of a year? That achievement seems more important than most consider. Everyone counts slams but there are a lot of other touraments, and they add up too. There are nine ATP Masters events which, in total, account for more points than the slams. And, a player is allowed to count a certain number of lesser tournaments as well.
In fact, there are players who won quite a few slams but whose time in the number one position was surprisingly short. In the period from the mid 1980s to early 1990s two players won six slams each. Boris Becker held the ATP no. 1 ranking only 12 weeks. His contemporary Stephan Edberg, who played a similar attacking style, was ranked number one for 72 weeks and was the top player for two years, 1990 and 1991. Baseliner Mats Wilander won seven slams but spent only 20 weeks in the top spot.
Who had the most successful career? Objectively, one has to give the edge to Edberg over Becker when it comes to an accounting of career accomplishments even though Becker held the edge over Edberg in head-to-head encounters. More interestingly, how does one rate Edberg vs. Willander? Although Edberg holds one less slam he occupied the top ranking for almost a year and a half, and Willander less than five months.
While slams undoubtedly contribute a large measure toward success, evidently being the best player for an entire year signifies something meaningful as well. Its true value is that it incorporates not only success at slams but also at other tournamements as well -- particularly the Masters series, where participation is almost mandatory, absent injury -- a factor which cannot be ignored. Perhaps a more complete accounting of a player's accomplishments is a combination of major championships and annual best player selections -- although the latter part may be a hard sell for those who have never considered the possibility.
Forever Unknowable
There is still the siren call of an imaginary tournament in the ether, pitting players against each other. Sitting where we are today, watching players rack massive ground strokes at each other with graphite racquets and polyester strings, it's hard to imagine giving much of a chance to Laver, Rosewall, Budge, or Cochet, or even big, heavy hitters such as Gonzales and Tilden, with their gut-strung wooden frames.
But such imaginings can never bring closure, as Jack Kramer observed. In our biased mind's eye these matches take place in today's circumstances. But we forget that grass courts and serve-and-volley were once a dominant form of play. In fairness, it makes just as much sense, and is equally as senseless, to force today's players to compete in this imaginary tournament with gut-strung wooden racquets on the slick grass of 1930s Wembley.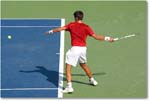 I have to admit, I'd pay to see a 1950s-conditioned Novak Djokovic (who had endurance problems until he went gluten-free; hint: they didn't have a clue about gluten in the 1950s) take on Pancho Gonzales on a slick grass court with a gut-strung 65 sq in, 15 oz wooden racquet. You can toss that full Western grip right out the window.
Truly, who would win theoretical matchups across eras is a futile exercise, precisely because of the differences and unknowables. Although one might find a surprise tucked away here and there. At the improbable age of 39, diminutive Kenny Rosewall made the finals of both Wimbledon and the US Open before losing each time to an in-his-prime Jimmy Connors. Who can say with certainty that, prime-for-prime, "Muscles" wouldn't have taken Jimbo -- especially with 1950s technology.
Most Accomplished, not Greatest
About the only thing we can realistically count is accomplishments. Given the many divergences, we're going to set aside the idea of a GOAT, the "greatest of all time," the one player who would beat everyone else, as fun conjecture, and instead simply look through the record books to see who registered the most notable achievements. With that in mind, we aggregate herein open era slams, pre- open era pro championships, and best player of the year selections as equally significant accomplishments.
Where more than one player shared best player honors, the single point is divided equally. Likewise, two separate events were held for the 1965 and 1966 Australian Pros; in each case the result was divided among the winners rather than being treated as two separate championships. Sources for this information may be found at the end of this essay.
Slams prior to professional championships (1875 to 1927-1930)

Pro championships before the open era (1930 to 1967)

Slams after the open era (1968 to today)

Best player of the year (1875 to today)
Pre- open era pros get short changed as there was no Australian pro championship between 1927 and 1954, leaving only three pro "major" opportunities per year rather than four. However, even open era greats such as Borg, Connors and McEnroe rarely competed in the Australian Open. Their absence took away opportunities to place higher than they actually did, particularly Connors and McEnroe, who were exceptional hard court players.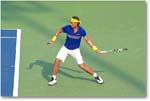 As a consequence of the delay between the creation of pro championships in 1927 and the best players starting to turn pro in 1931, during the initial period from 1927 to 1930 we counted slams won as part of the overall total, since those slams were against the world's best competition. For example, Bill Tilden's 1929 US Open and 1930 Wimbledon titles came while Henri Cochet, the consensus best player in the world for those two years, was still amateur.
Clearly this approach is simply one among many and may even seem somewhat arbitrary. However, it has the great advantage of allowing us to go across eras in an impartial manner. It is important to understand that nothing here in any way suggests that a player placing higher on the list would defeat a player lower on the list. There are a myriad of factors at play. Surface and matchup, for example, are all important, as Federer vs. Nadal on clay has clearly demonstrated. With that in mind, here's how the numbers stack up.
It is worth noting that, given the variations in circumstances over time, a small "point" difference anywhere on this list is probably not of a precise arbiter in distinguishing among the achievements of these players.
Male Tennis Greats and Their Accomplishments
Player
Australian
Pro/Open
French Pro
French Open
Wembley Pro
Wimbledon
US Pro
US Open
Years as
Best Player
Total
Ken Rosewall
4
9
5
3
4.31
25.3
Roger Federer
6
1
8
5
5
25
Rafael Nadal
1
13
2
4
5
25
Novak Djokovic
8
1
5
3
6
23
Rod Laver
5
2
6
4
6
23
Bill Tilden
0
2
3
9
6.51
20.5
Pete Sampras
2
0
7
5
6
20
Pancho Gonzales
0
0
4
8
7
19
Bjorn Borg
0
6
5
0
4
15
William Renshaw
0
0
7
0
6.51
13.5
Ivan Lendl
2
3
0
3
3
11
Jimmy Connors
1
0
2
5
3
11
John McEnroe
0
0
3
4
3
10
Henri Cochet
0
4
2
1
3
10
Amateur results
1925-1930
1925-1930
1875-1930
1882-1930
Pro results
1954-1966
1931-1968
1931-1968
1931-1968
Open era results
1969-2016
1968-2016
1968-2016
1968-2016
1 Fractional Best Player of Year signify multiple players were considered equal at year-end.
The Best of the Best
If there is any doubt about Roger Federer's place in the pantheon of greats this accounting should dispell it. His 2017 Australian Open win over long time rival Raphael Nadal at age 35, after six months off due to injury, as well as his eighth Wimbledon title a month short of 36, is virtually unique in the modern polyester-fueled 100 mph forehand baseline era. His sixth Australian Open slam title, in January 2018, pushed his name to the top of the above list, and very nearly to the number one ranking again -- an ascent he completed at Rotterdam, smashing several records in the process, including oldest player ever to hold the top ranking.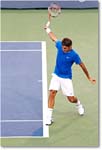 Pete Sampras also stands high on the list, in great measure because of his six consecutive years as the number one player in the world, and notwithstanding the lack of a French Open title. Fans of clay court giant Raphael Nadal, surely the best dirt court player ever, were heartened by his 2017 resurgence, including his dominant tenth French Open win. Both Federer and Nadal returned, remarkably, to best player status in 2017, long after everyone had written them off. Novak Djokovic is already an all time great, and his final place is yet to be established since he especially, among the older players, if his health permits, may still add significantly to his total.
It may come as a surprise that Ken Rosewall tops the list. At 5' 7" tall and 145 lb, he was known affectionately as Muscles, mainly because he hardly had any. However, he was quick and tireless -- which perhaps contributed to his longevity, enabling him to win three slams past the age of 35 and appear in two finals at the age of 39. His volley was deadly and his sliced backhand was a thing of beauty. Unfortunately, these traits would not translate well to today's power baseline game. Rod Laver, owner of the only pro Grand Slam, and Pancho Gonzales place in the top tier, as knowledgeable fans have long believed. Modern fans probably know little about Big Bill Tilden, but he was once a dominant force in tennis, as his accomplishments reveal.
William Renshaw's Wimbledon wins came in the mid-1880s, early in the tournament's history. That, and other UK successes marked him as best player, effectively double-counting his victories. His presence on the list is an artifact of early times, limited competition, and small sample size, and should be judged accordingly. Another early notable, American Richard Sears won the fledgling US Open for seven consecutive years beginning with its inception in 1882. However, in his one 1884 foray across the Atlantic he reached the final of only one tournament, lost in straight sets to Herbert Fortescue Lawford in the quarters of the Irish Championships, a player that Renshaw beat repeatedly, and was a walkover in the first round of Wimbledon.
Many great players fell short of the list. In the 1920s, Rene Lecoste, approached Henri Cochet in talent but retired early due to failing health. In the 1930s, Jack Crawford, Ellsworth Vines and Fred Perry were outstanding players, but none achieved the sustained performance needed to move higher. Several Australians flashed brilliantly but did not make the list, most notably Lew Hoad. Roy Emerson won twelve slams but none as a pro, so his accomplishments relative to this list are virtually non-existent. More recently, Andre Agassi fell just short, perhaps due to the fact that his career arc ran parallel to Pete Sampras.
World War II adversely impacted the careers of several outstanding pros, among them Don Budge, Bobby Riggs and Jack Kramer. Kramer served in the Coast Guard; Riggs with the Navy. Budge entered the Army Air Force, where a training exercise injury left him permanently unable to perform at his previous consensus world number one level. The injury cost him his edge over Riggs, whom he had previously beaten regularly. But for the war and the injury, Budge is the one missing player who might otherwise have found a place high on the list.
Golden Ages and Perspectives
Perhaps the most intriguing aspect of the list is the clustering of periods of exeptional accomplishment -- golden ages in the sport. The first must surely be the 1920s and into the early 1930s, a time belonging to Bill Tilden and his contemporaries, the French Four Musketeers, Henri Cochet, René Lacoste, Jean Borotra and Jacques Brugnon. Tilden was clearly the best player of his era and one of the best of any era. The French, on the other hand, were a powerhouse nationally and in David Cup play.
Throughout the 1930s, as the somewhat chaotic move to a professional tour was taking hold, no one gained a sustained edge. Sometimes the best player was judged to be an up-and-coming amateur and sometimes a pro. Don Budge completed the amateur Grand Slam and might have been the leading player in a golden age in the 1940s had not the war placed tennis on hold, as it did so many lives and activities.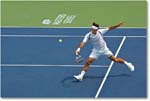 Thanks to the efforts of Jack Kramer, the 1950s brought the beginning of a robust pro tour. It also brought an unparalleled golden age of tennis excellence that deserves to be better remembered than it is today. Pancho Gonzales stood virtually alone throughout the 1950s until the arrival of Ken Rosewall, who came on the scene toward the end of Gonzales' athletic peak. Rosewall was followed by the even more memorable Rod Laver, whose winning of the only professional Grand Slam, in 1969 at the age of 31, is the stuff of legend. This twenty year period constitutes the second golden age of tennis.
Following almost immediately thereafter, coinciding with the advent of open tennis and marked by the arrival of Jimmy Connors and Bjorn Borg, came a third golden age, which extended through the careers of John McEnroe and Ivan Lendl. Based simply on aggregated numbers, this era did not quite come up to the level of either of the two periods that preceded it, perhaps in part because the competition among its principles was so fierce.
There soon followed a decade owned by Pete Sampras, in many ways analagous to Bill Tilden's preeminence in the 1920s. Sampras had barely finished eclipsing Roy Emerson's amateur twelve slam mark when Roger Federer gained ascendency during the 2000s. In fact, a close look at the table shows that the decade-and-a-half period of superiority on the part of Roger Federer, Raphael Nadal and Novak Djokovic (and one can add the Sampras decade as well) constitutes one of the greatest periods of sustained elite performance in the history of tennis -- rivaled only by the two decade period of Gonzales, Rosewall and Laver.
We are truly living in one of the greatest golden ages the sport has ever seen.
Sustained Excellence
Again, the above list is not a "greatest player" prediction in terms of cross-era matchups. The goal is simply to compile roughly comparable information about player achievements from different generations. Successes are drawn from tennis' biggest stage -- major championships and best player of the year, the latter being perhaps an unconventional addition to more traditional competitive forms of accounting. Even so, the effort can never be definitive because eras are different in terms of tour structure, court surfaces, equipment, diet, conditioning, training, length of schedule, depth and competiveness of player field, support technology, travel, and a host of other factors.
There have been many great players in the history of the game, but the ones at the top of this list are not just players who played superbly well but those who played at that level for a long, long time. And that, I think, is as good a definition of greatness as any.